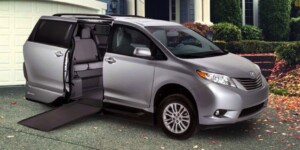 VMI offers a variety of new and used wheelchair-adapted vehicles and lifts, VMI can accommodate almost any wheelchair user. Whether you want more room, style, entertainment features or just a great value, one of our VMI handicap-accessible minivans can provide it.
VMI is one of the largest manufacturers of wheelchair van conversions, we take great pride in building leading-edge mobility products that meet the needs of our customers. With a genuine care for the disabled community as our driving force, we have been constantly innovating and working to improve our products and our service throughout our long history.
VMI was created in response to a need. As a pioneer in the mobility vehicle industry, VMI began when its original founders were challenged to build a better handicap-accessible vehicle for a close family friend. Looking to find a more convenient and simple solution than the traditional mobility lift, our founders took an Oldsmobile Toronado and created easier access by dropping the floor and installing a wheelchair ramp system. This endeavor was so successful, they later applied this innovative technology to a Chrysler minivan, and officially introduced the first wheelchair-accessible minivan in 1987.