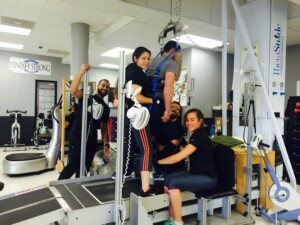 NextStep is an internationally recognized non-profit that makes life-changing rehab and fitness accessible and affordable to individuals living with paralysis.
Today, most of these individuals are deprived of the resources they desperately need to live long, healthy and happy lives. NextStep's goal is to open NextStep paralysis recovery centers across the country to ensure an improved quality-of-life and a continuum of care for this underserved population.
By offering standardized activity-based therapy programs and interventions, based on research; our centers provides the best chance for recovery, independence, and health.
Who We Serve
Spinal cord injury (SCI)
Stroke
Multiple Sclerosis (MS)
Traumatic Brain Injury (TBI)
Cerebral palsy (CP)
Parkinson's Disease
And other neurological conditions…
What We Offer
Locomotor Training
Neuromuscular Electrical Stimulation
Functional Electrical Stimulation
Guided Activity Based Therapy
Cutting Edge Equipment & Facility