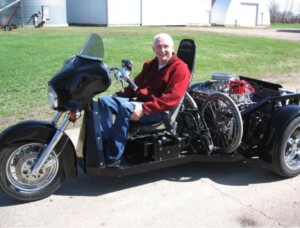 The Liberator Motorcycle Trike, with its unique open frame design, enables wheelchair users an ease of access unparallel to other designs.
Each Liberator seat is custom profiled to meet the needs and comfort of the drivers and riders. With provision for chair placement directly behind the drivers seat (if needed), the Liberator can be driven in a complete, independent environment. Install the removable passenger seat for a liberating ride down the highway in a conventional tandem seating arrangement.
The sound of the V-8 will let every one know that this is no ordinary motorcycle. At an average of thirty miles to the gallon, the Liberator has a blend of power and efficiency. The automatic transmission with reverse states ease of operation.