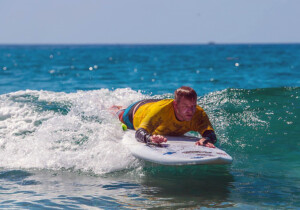 Island Inspired works directly with you to design and manufacture custom adaptive surf boards designed to your style, size, and ability!
They work closely with you, your team and your PT to ensure the proper adaptations for your unique abilities. This is a an amazing process for everyone involved and we look forward to building each and every one of these boards.
Island Inspired creates custom adaptive surf boards for each surfer and the particular needs of that surfer. Our Tandem, Assist, Prone and Solo Adaptive boards are clearly at the cutting edge of design and performance. We also create boards for Adaptive Surfing Programs that work well for many push in, tandem and solo surf sessions. We have worked with Adaptive Surf Project, Christopher & Dana Reeve Foundation, Wheel to Surf Events and more. We are more than stoked to participate in the shaping, designing and creation of the boards as well as being on the teams that put these surfers in the water on a regular basis.