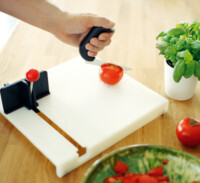 Etac Fix preparation board gives extra power and precision to people with weak hands when preparing food.
With the Fix preparation board, tasks such as grating, cutting, whisking and peeling can be carried out even with weak hands or one hand funktion.Fix preparation board stands firmly on its four friction feet or the enclosed suction feet.
The jaws hold a bowl, grater or piece of food in place. There is also a a small plate with spikes to hold smaller pieces of food. This can be removed and also placed with the spikes pointing downwards to obtain a flat surface.