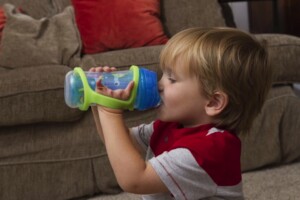 EazyHold Universal Cuff helps you accomplish daily living activities independently despite physical conditions or disabilities impacting grip strength. The universal cuff comes in multiple sizes, for infants to seniors, to help get a better grip on small to large objects.
The soft silicone bands openings stretch wide to slip onto the handles of many different sized tools, outdoor and sports equipment, eating and drinking utensils, writing implements, toys, and other objects of daily living. And because of silicones slightly sticky properties, it does not need to be tight on the hand or limb to be effective.
The patented EazyHold design gives children and adults the ability to hold onto tons of items with ease and is eazy to use, eazy to clean and eazy on the hands!. EazyHold straps are made of soft, flexible food-grade silicone, hypoallergenic and latex free. Wash them in the dishwasher or clean with disinfectant wipes. These silicone cuffs can be sanitized at temperatures up to 500 degrees and won't degrade.