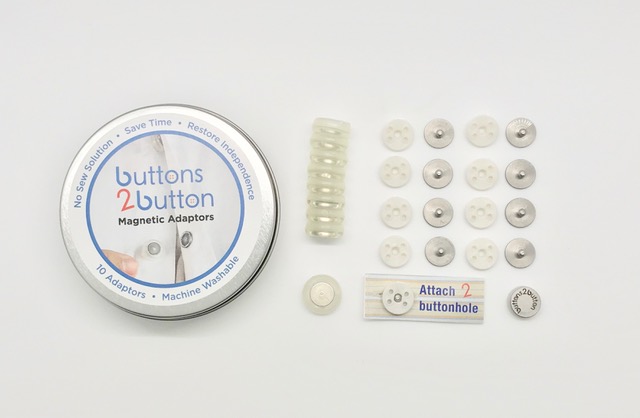 Convert your shirt to make getting dressed and undressed effortless. Magnetic button adaptors are specially designed to convert your shirt buttons into magnetic closures.
Buttons2Button's innovative design is easy to attach to shirts of your choice. Simply pop one part over the shirt button and the other part to the buttonhole to transform shirts into magnetic closures. Fine motor skills are necessary for installing, but are specially designed for long-term use and withstand regular washing and drying. The unique, semi-permanent attachment allows product to be used temporarily and transferable to other shirts.
Buttons2Button allow you to convert your existing closet of clothes into adaptive wardrobes. By making getting dressed easier, we eliminate frustration, restore time and enable the freedom to wear your own, comfortable clothes at a fraction of the price of buying new, disabled specific garments.
This simple, patent pending solution helps overcome dexterity limitations and takes the hassle out of buttoning. Regain the ability to dress and undress easily. Enjoy the freedom to choose comfortable clothes to express your unique style!