Able Flight's mission is to offer people with disabilities a unique way to challenge themselves through flight and aviation career training, and by doing so, to gain greater self-confidence and self-reliance.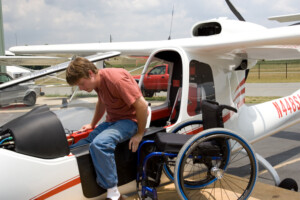 Able Flight was created by pilots who believe that the life-changing experience of learning to fly is best shared, and designed the Able Flight Scholarships to enable people with disabilities to pursue that experience.
Members of the Able Flight Board of Directors and Advisory Board include a flight instructor, an Aviation Medical Examiner, a veteran who flies his own plane with the aid of a prosthetic device, and a previous scholarship recipient.
Able Flight™ is incorporated as a 501 (c) (3) nonprofit organization, and is supported by the generous donations and sponsorships of individuals, foundations and corporations.
Who can apply?
Any U.S. citizen seventeen years old or older with a physical disability that significantly impairs function can apply. Able Flight has awarded scholarships to people who use wheelchairs due to spinal cord injury, wounded veterans, people with a variety of congenital birth defects, and people who have lost limbs.
What license can I earn?
Flight training scholarships are for training that can lead to a Sport Pilot Certificate (see more below). Career training scholarships may be used to earn an FAA-issued Light Sport Repairman Certificate with Maintenance rating, the FAA Dispatcher License, or at the discretion of the scholarship committee, it may be used towards academic expenses while training for an aviation career (aviation management, air traffic control, etc.).
What does the scholarship cover?
Our full scholarships cover flight and ground training, testing fees, study materials, and lodging and travel as required. Recipients of full scholarships receive a complete ground school self-study package shortly after their selection. Career training scholarships cover course fees, testing fees, and may cover travel and lodging as required.